Week of Fed 12th – Feb 18th.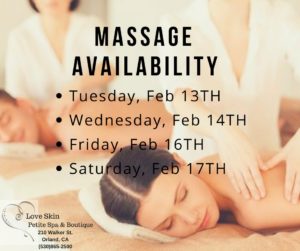 Aromatherapy Massage
Customized Massage (60 min/$70…90min/$90)
Enjoy a one of a kind experience, while unique movements and techniques carry you into a state of pure relaxation. The creative flow in this massage allows for a variety of techniques to be used so that your body receives a perfect blend of all that it needs.
Deep Tissue Massage (60 min/$80…90min/$100)
Releases deeply held patterns of muscle tension using slow, direct pressure. It is corrective and therapeutic. May cause soreness during and/or after treatment, but usually subsides within a day or two.
Hot Stone Massage (60 min/$80…90 min/$100)
Expand your relaxation with heat therapy. Smooth basalt stones are heated and incorporated into your massage. The perfect treatment to loosen tight muscles, relieve stress, and ease tension.
Hit the Spot Massage (60 min/$70…90min/$90)
Addresses three areas where most need a little TLC: the neck, hands, and feet. These areas are thoroughly massaged while heated towels add extra soothing.
Express Massage
Neck and Back Massage (30 min/$44)
Neck and Back Deep Tissue Massage (30min/$50)